Policy and Targets
Background and the Role of Reductions in Meeting Environmental and Economic Objectives
The volume of gas flared in Gabon increased from 1.3 bcm in 2012 to 1.6 bcm in 2016. Following an increase in 2019 and 2020, volumes fell to 1.3 bcm in 2021. The flaring intensity reached its highest level in 2020 but dropped again in 2021 while still remaining above the long-term average. Among the countries reviewed in this report, Gabon's flaring intensity in 2021 was second only to that of the República Bolivariana de Venezuela. There were 48 individual flare sites in the last flare count, conducted in 2019. 
Gas flaring volume and intensity in Gabon, 2012–21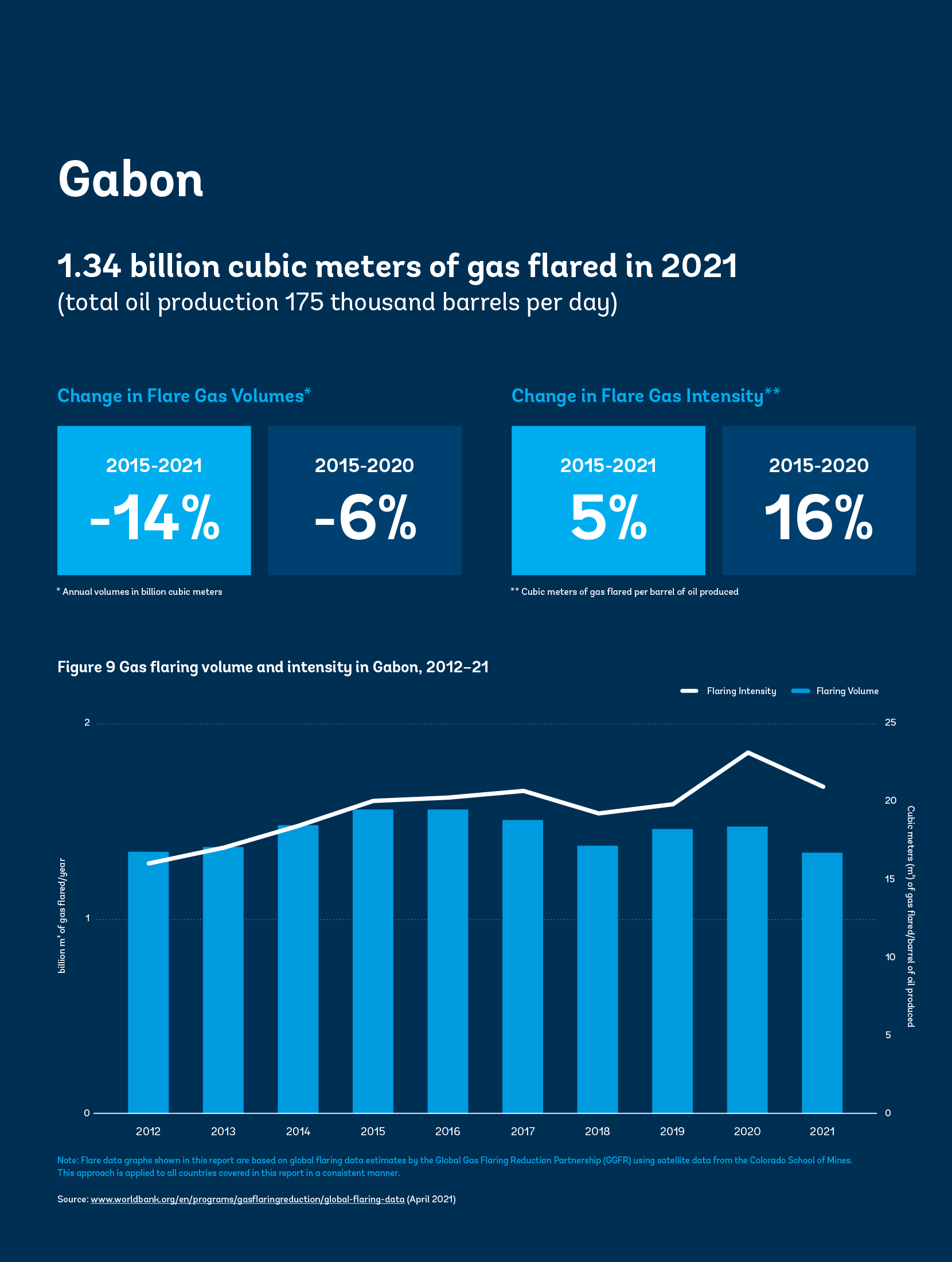 Gabon is the fifth-largest oil producer in Sub-Saharan Africa. Current production is half its peak level, in 1997. It increased slightly in 2019 to about 220,000 barrels a day, thanks to the commissioning of new projects and investments to restore specific sites. The country has sizable associated gas resources. More than 90 percent of gas production is re-injected or flared for lack of economic alternatives. 
Extreme volatility of oil prices in recent years prompted a significant reorganization of Gabon's oil and gas industry. Shell sold its assets to the Carlyle Fund at the end of 2017. In July 2020, Perenco bought a large part of the assets of Total Gabon and became the leading national producer (producing 416 million m³ of gas in 2019), supplying thermal power plants in Port-Gentil and Libreville with approximately 200 megawatts (MW) of gas-fired power generation capacity. Despite the efforts made since 2009 to diversify the economy, the oil sector remains leading contributor to the national budget. According to the International Monetary Fund, the share of oil in Gabon's gross domestic product (GDP) was 38.5 percent in 2019. 
In 2016, Gabon endorsed the World Bank's Zero Routine Flaring by 2030 initiative (World Bank, n.d.). It also participates in the Climate and Clean Air Coalition (n.d.). Gabon presented routine flaring reduction as a core component of its commitment to reduce GHG emissions in its first NDC, submitted to the UNFCCC in 2016. In accordance with decisions 1/CP.19 and 1/CP.20 and its national development plan (the Gabon Emergent Strategic Plan), Gabon has unconditionally committed to reducing emissions by at least 50 percent by 2025 compared with the business-as-usual scenario defined in its NDC. The flaring of associated gas represented 23 percent of Gabon's direct emissions in 2000. Between 2010 and 2025, the government expects that measures adopted to reduce routine flaring will reduce GHG emissions by 17.3 million tonnes of CO2. 
Gabon's legislation includes provisions designed to end routine gas flaring and develop its associated and nonassociated gas reserves with a view to transporting and selling natural gas to large industrial users in the country. Article 118 of the new petroleum law, Law No. 002/2019, sets out a 10-year gas plan, the objectives and conditions of which will be defined by regulation. The provisions made in the model PSC align with the key aspects of the new petroleum code, although field-specific arrangements can vary. 
A National Climate Plan was developed to introduce climate concerns in the country's development program, and the Climate Council (Conseil National Climat) has been given a prominent position in the government. The objectives are to combat climate change and its effects, prevent deforestation, halt land degradation, and stop biodiversity erosion. At the same time, it mentions the potential for new opportunities offered by the green economy (Green Gabon).
Targets and Limits
At the United Nations Climate Summit in Durban in December 2011, President Ali Bongo Ondimba announced the objective set for Gabon's oil industry of reducing the volume of gas flared by 2015 by a minimum of 60 percent (compared with 2009 levels). This target was not captured in legislation, but a national gas flaring reduction plan was prepared. The plan required all oil companies operating in Gabon to submit individual plans detailing how they would reduce gas flaring at their facilities.
Legal, Regulatory Framework, and Contractual rights
Primary and Secondary Legislation and Regulation
Before August 2014, the oil industry in Gabon was governed by Law No. 15/1962, as amended by Law No. 14/74, 1975, and Law No. 14/82, 1983. None of these laws contained provisions to limit flaring and venting. Such provisions were first introduced in legislation in November 2009. through a decree forbidding continuous flaring of associated gas (Arrêté N° 00268/MMPH/SG/DGH), and in 2010, through a decree imposing penalties on flaring to be gradually applied from January 2011 to December 2014 (Arrêté N° 00827/MMPH/SG/DAEJF). These decrees have never been enforced.
PSCs govern most hydrocarbon activities. The latest model version bans flaring and venting while allowing several exceptions. PSCs can include specific clauses departing from general regulations.
On August 28, 2014, the government enacted Law No. 011/2014 to encourage exploration and development and reduce gas flaring by promoting gas monetization options. Law No.011/2014 offered more attractive fiscal terms for commercializing gas (Article 124) but also included a domestic market obligation. Routine gas flaring was prohibited, and oil companies were given 12 months to comply. A tolerance limit (threshold) for gas flaring was to be set for each field. Companies that did not comply with these provisions were to be subject to gas-flaring penalties to be defined in future regulations (Articles 129 and 130). The government has the legal right to take over the commercialization of gas and related transportation infrastructure in case of noncompliance (Articles 125, 128, and 149).
Despite the above attempt to make fiscal terms more attractive, investors did not find the fiscal regime in Law No. 011/2014 attractive, and Gabon recorded no investment in the sector in the five years following its adoption. The government enacted a new hydrocarbons law, Law No. 002/2019, promulgated by Decree No. 00112/PR, repealing Law No. 011/2014. Following the introduction of the new legislation, investor interest increased, and Gabon has signed nine new oil production contracts. As of the time of writing, no decrees had been put in place to issue regulations for Law No. 002/2019.
Article 61 of Gabon's Environmental Law, Law No. 007/2014, requires prior approval of an EIA by the Ministry of Environment for offshore oil and gas operations.
Legislative Jurisdictions
Gas flaring and venting are matters of national jurisdiction.
Associated Gas Ownership
Article 10 of Law No. 002/2019 provides that all hydrocarbon resources, essential infrastructure, studies, data, and information acquired or produced during oil operations are the exclusive property of the state. Article 124 further provides that the associated gas from an oil deposit not allocated to self-consumption in oil operations and the nonassociated gas declared not commercially exploitable remain the property of the state.
In line with the requirements established for PSCs as the primary licensing agreement, Article 117 requires natural gas producers to deliver to the state or to a third party designated by it, on a priority basis, a share of their annual production to satisfy the domestic market's needs. The methods for determining the share of natural gas are set by regulation and hydrocarbon contracts. The official sale price is set by regulation.
Regulatory Governance and Organization
Regulatory Authority
Article 16 of Law No. 002/2019 refers to an institutional structure composed of the Ministry of Petroleum, Gas, Hydrocarbons, and Mines (Ministère du Pétrole, du Gaz, des Hydrocarbures et des Mines [MPGHM]), a regulatory authority, a national operator, and advisory bodies: 
Article 17 states that the ministry in charge of hydrocarbons (MPGHM) is the competent authority ensuring implementation of the government's policy on the upstream and downstream oil and gas industry. 
Article 18 states that the application of the regulations governing the upstream, midstream, and downstream oil and gas sectors is to be carried out by the ministry department in charge of hydrocarbons, currently the General Directorate of Hydrocarbons (Direction Generale des Hydrocarbures [DGH]).
Article 28 defines the responsibilities of an independent administrative authority in the oil and gas sector (responsibilities currently with DGH), which include the following:

guaranteeing free competition in the oil and gas sector, per the Central African Economic and Monetary Community (Communauté Économique et Monétaire de l'Afrique Centrale) Code on anti-corruption
­contributing to the development of technical specifications in the oil and gas sector and ensuring operators' compliance with technical, quality, hygiene, health, and environmental specifications, as defined in the legislation
­guaranteeing pricing transparency and nondiscriminatory third-party access to essential infrastructure.

Article 27 reiterates the right of the National Hydrocarbons Company (Société Nationale des Hydrocarbures) to participate in exploiting, marketing, and distributing hydrocarbons and their associated products. Founded in 2011, the National Hydrocarbons Company—also known as the Gabon Oil Company—reports to the President's Office and is under the technical supervision of the MPGHM and the financial supervision of the Ministry of Economy. The new law no longer expressly refers to this company as the national operator. The Gabon Oil Company is defined only as an operator whose capital is held exclusively by the state. Its functions include the following:

holding the government's interests in national hydrocarbon resources and shares in private companies
investing on behalf of the state (alone or in joint ventures with private companies) in upstream or downstream oil and gas projects
­undertaking any activity in the oil and gas supply chain, with the same rights and obligations as any other operator
­entering into agreements with the state, in the same way as private companies, to operate new gas-processing facilities and pipeline infrastructure, potentially in a joint venture with private operators.
Regulatory Mandates and Responsibilities
The DGH was created by Decree No. 346/PR/MERH, 1977. It is responsible for the implementation of Gabon's oil policy and the management and development of its hydrocarbon resources. Article 242 of Law No. 002/2019 states that the DGH's control relates to compliance with the specifications and technical characteristics of hydrocarbons, petroleum products, gas, and derivatives sold in the domestic market and the quality of water, sludge, and used oils from hydrocarbon activities. The DGH's activities encompass technical, accounting, legal, and fiscal administration (Article 243).
The Ministry of Environment is mandated to authorize gas flaring and venting under extraordinary circumstances and approve (jointly with the MPGHM) gas flaring reduction plans for production fields.
Monitoring and Enforcement
Article 246 of Law No. 002/2019 states that the measurement of oil and gas production is the exclusive prerogative of the state but that its responsibilities and functions can be delegated. An important responsibility of the regulator is to regularly check the compliance of all measurement devices and equipment in the presence of the operator. According to Article 251, the MPGHM is to carry out technical audits on integrity, guaranteeing the regular and optimal functioning of all measuring, metering, and other installations for oil and gas production. The DGH is to collect data from operators and monitor gas flaring. Because of the scarcity of resources at the DGH and the absence of well-defined reporting guidelines, the quality and quantity of data collected are generally poor and do not provide a sound basis for enforcing regulations.
Licensing/Process Approval
Flaring or Venting without Prior Approval
Article 125 of Law No. 002/2019 prohibits the flaring and venting of gas in Gabon. No evidence of situations exempt from this general prohibition without government approval could be found in the sources consulted. However, at the request of the contractor, the environmental authority can authorize flaring and venting for a period.
Authorized Flaring or Venting
According to Article 125 of Law No. 002/2019, at the request of the contractor and on the advice of the MPGHM, flaring and venting may be authorized within a period determined by the Ministry of Environment. Upon notification, the applicable thresholds (subject to periodical revision) will be determined for each field.
Development Plans
Article 126 of Law No. 002/2019 requires operators to submit a gas flaring reduction plan for all their production fields for the joint approval of the MPGHM and the Ministry of Environment.
Economic Evaluation
No evidence regarding economic evaluations could be found in the sources consulted.
Measurement and Reporting
Measurement and Reporting Requirements
Article 127 of Law No. 002/2019 requires operators to equip production facilities with flare measuring devices. Article 248 requires that the ministry responsible for hydrocarbons approve the choice, location, installation, modification, and addition of any equipment for measuring and metering oil and gas production. Article 127 requires operators to report the volumes of gas flared to the ministry responsible for hydrocarbons. Failure to declare any volume of gas flared subjects the operator to a fine, the amount of which will be set by regulation in the future. Article 119 states that contractors are required to transmit to the DGH all information relating to the gas balance in accordance with the procedures to be set by future regulation. Article 182 mandates that all hydrocarbon permit holders provide the DGH with a report on its activities and any administrative, technical, economic, and financial information related to its operational responsibility, quality, health, and the environment under the conditions and time required by the regulations. The model PSC states that any flared volumes must be reported to the DGH monthly.
Measurement Frequency and Methods
Article 251 of Law No. 002/2019 states that the units, methods, and standard conditions for measuring the volumes of oil and gas and the marketing of natural gas or products derived from oil and gas are set by regulation. No regulations have yet been approved. There is also no stated requirement for the fiscal metering of flare gas.
Engineering Estimates
Law No. 002/2019 states that gas stream volumes can be estimated based on gas-to-oil ratios or measured by ultrasonic or other gas flow meters.
Record Keeping
No evidence regarding record-keeping requirements could be found in the sources consulted.
Data Compilation and Publishing
The DGH is in charge of collecting, processing, and disseminating flaring data within the government (notably the Climate Council).
Fines, Penalties, and Sanctions
Monetary Penalties
Law No. 002/2019 sets a series of sanctions, including penalties for contractors that fail to submit required studies and reports for their upstream activities, gas-flaring violations, and noncompliance with regard to flaring-reduction plans or flaring thresholds. Article 265 doubles the penalties in the event of a repeated offense. Article 266 provides that future regulations will determine the methods for the payment of penalties.
Article 269 of section 2 imposes a penalty of CFAF 50 million–CFAF 2.5 billion (about US$89,000–US$4.5 million as of September 2021) on any contractor that violates the prohibition on routine gas flaring. The same penalty applies if the contractor does not execute the flaring reduction plan or comply with the flaring thresholds set by the regulation. Article 278 imposes a penalty of CFAF 10–CFAF 100 million (about US$18,000–US$180,000 as of September 2021) on any contractor that deters inspections by the DGH. Article 280 imposes a penalty of CFAF 1–CFAF 2.5 billion (about US$1.8 million–US$4.5 million as of September 2021) on any contractor that violates the provisions relating to measuring or metering oil and gas, including system calibration.
Nonmonetary Penalties
Article 263 of Law No. 002/2019 states that the applicable future legislation and hydrocarbon contracts will provide administrative sanctions. Article 265 provides for the withdrawal of authorizations and bans on oil and gas production for repeated offenses. This provision is not new: In January 2013, Gabon revoked the Obangué license of Addax Petroleum after the company allegedly failed to pay customs duties and comply with other laws.
Enabling Framework
Performance Requirements
Article 128 of Law No. 002/2019 requires oil and gas producers to develop or use suitable techniques for the recovery and re-injection of gas to optimize production and conserve the resource. Article 129 states that future regulations will define methods for controlling the volumes of gas flared and gas discharged and set forth plans to reduce flaring.
Fiscal and Emission Reduction Incentives
In the model PSCs, contract terms for oil are clearly defined, but terms for possible gas discovery or associated gas volumes remain vague (subject to a separate agreement). Article 215 of Law No. 002/2019 reduces the government's minimum share of profit oil in PSCs to 45 percent for the conventional zone and 40 percent in offshore oil exploitation (against 55 percent and 50 percent, respectively, in the 2014 law). The government's share of profit gas is 25 percent for the conventional zone and 20 percent for deep offshore zones.
Law No. 002/2019 offers the possibility of removing the corporate tax of 35 percent on the contractor's share of profit oil in the old law and lowers the proportional mining royalty, which is now 7–15 percent for liquid hydrocarbons produced onshore and 5–12 percent for offshore. For natural gas, these rates are 5–10 percent onshore and 2– 8 percent offshore. The new legislation also improves cost-recovery terms for operators. The cost-recovery limits for liquids are 70 percent for onshore and 75 percent for offshore; the limits for gas are 80 percent for onshore and 90 percent for offshore.
Use of Market-Based Principles
No evidence regarding the use of market-based principles to reduce flaring, venting, or associated emissions could be found in the sources consulted.
Negotiated Agreements between the Public and the Private Sector
In 2011, Gabon committed to reducing the volume of gas flared by 2015 by a minimum of 60 percent compared with 2009 levels. A national gas flaring reduction plan required all oil companies operating in Gabon to submit plans to reduce gas flaring on their operating assets. Accordingly, oil companies implemented several flare-reduction projects from 2011 to 2015. These projects resulted in a moderate reduction of about 10 percent of the volumes flared.
Interplay with Midstream and Downstream Regulatory Framework
Article 8 of Law No. 002/2019 states that any license holder of an administrative authorization to carry out hydrocarbon activities has access to essential infrastructure, subject to availability and the priority of access granted to certain holders by the DGH. This third-party access is exercised in line with the principles of tariff transparency, equal treatment, and nondiscrimination.